"A TIRESHAKK franchise is a Business Legacy you can pass to your next generation."
A TIRESHAKK franchise is the wise investment choice. It is a business that will continue to grow and earn for you and your next generation."
A Tireshakk Franchise is an investment in the future with long term rewards. Unlike fad businesses which may earn money quickly when new and have sales decline when people lose interest, a Tireshakk investment is a steady, solid business that grows stronger over time. It's main product, Tires, is a necessity for all vehicles so it will always be in demand. The longer your shop is in business, the more loyal clients you will accumulate. Your shop will build a soild reputation and continue to grow, earn more and this is a business legacy you can pass on to your children.
With your Tireshakk franchise, you can sell quality Dunlop tires and Toyo tires and a full suite of tire services including tire installation, balancing, vulcanizing, and tire rotation among others. Generate multiple income streams and satisfy your customers with Tireshakk's one-stop-tire shop approach.
For more franchise information
Reach out to us at:
(02) 219-7615
0917-8008473
tireshakkfranchise@gmail.com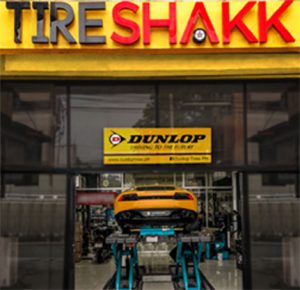 Any business or entrepreneur with the following qualifications.
Dedication to service of the highest quality
Financial capability
Good business sense
Strong work ethics
Familiarity with the automotive industry is a major plus but not a requirement.
Use of Name, Logo, Trademark
Pre-Opening and Start-up Assistance
Site Evaluation Assistance
Franchise Operations Manual on system
Training on Business Operations, Management, Tire Services, Customer Service and Local Store Marketing
Grand Opening and Marketing Support
Continued Business Guidance
Simply do the following:
Attend our Business Presentation
Submit a letter of intent
Location Map of Proposed Site
Resume with Colored ID Photo